Nattiq Note with Braille
Build it your way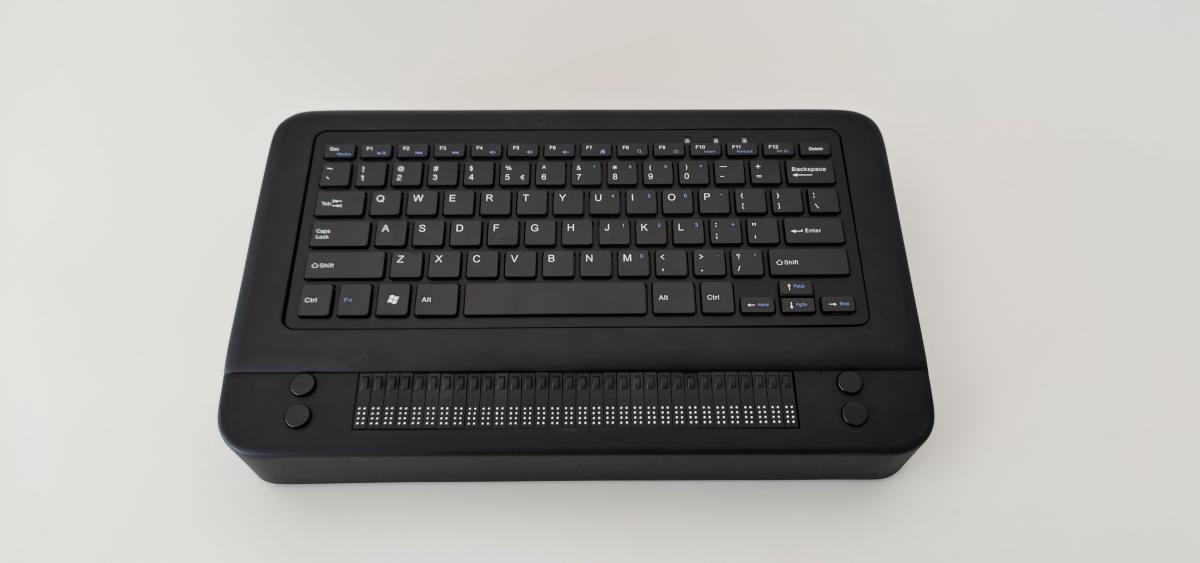 The first truly customizable laptop designed with you in mind. Choose the specifications and we will build it.QWERTY keyboard, Built-in Braille cells from Germany's Metec, Windows 10. Select a processor, a hard disk and RAM. All will be tightly packed together in one attractive and powerful device. Any other wishes to be built in your device?, just ask.
Specification:
1
Full QWERTY keyboard with all function keys, F1 - F12, and shortcut buttons
Processor: Intel M3 expandable to core-i7
Windows 10, 64-bit.
RAM: 4 GB LDDR 3 expandable to 32 GB.
Hard disk: 64 GB of SSD expandabke to 1 TB.
Support for external hard disk via USB 3.0 with up to 8 terabytes.
NVDA screen reader preinstalled. Supernova and JAWS are optional .
Ports:
USB Type C and Type 3 for Charging
HDMI to connect to an external monitor
3.5 mm headphones
USB Flash - two ports
Wi-Fi ac 802.11 with 2.4 and 5.0 GHz supporting speeds up to 867 Mbps
Bluetooth 4.2 support
Braille cells: 16, 32 or 40 cells
Compatibility: Word, Excel, PowerPoint, OneNote, Outlook, Publisher, Access, InfoPath and Lync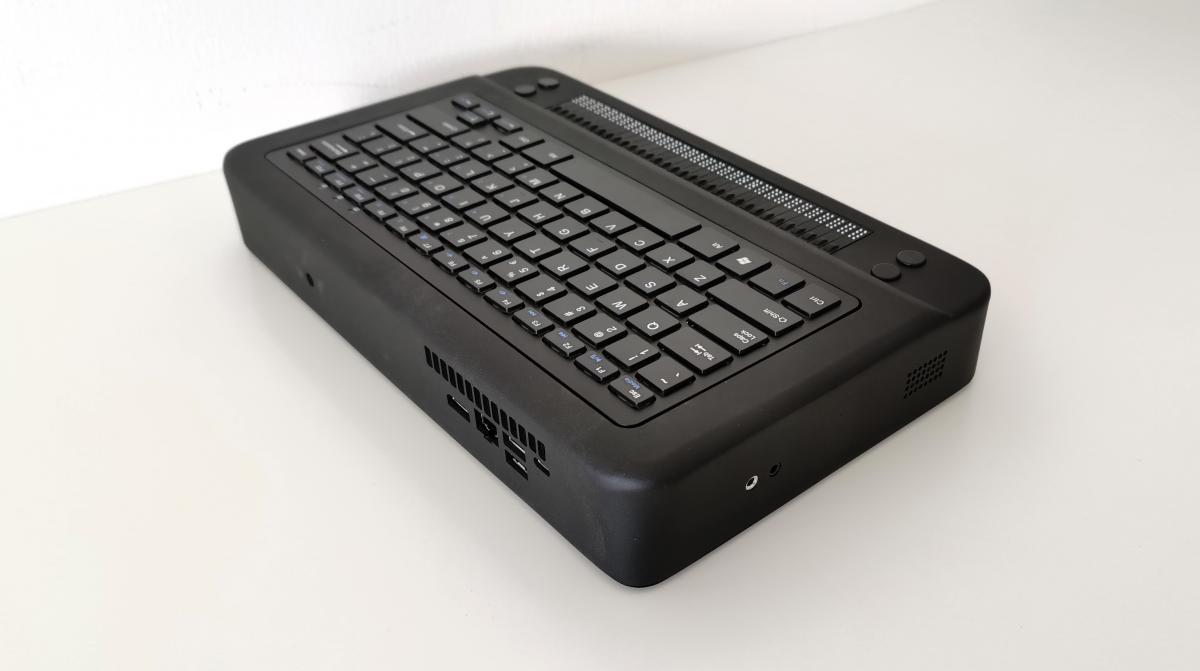 11.

Price list
Specifications

Processor

RAM

Hard Disk

Braille Cells

Price (USD)

Price (AED)

M3

4 GB

64 GB

16

2,700.00

9,900.00

M3

8 GB

64 GB

16

2,780.00

10,200.00

M3

4 GB

256 GB

16

2,750.00

10,100.00

M3

8 GB

256 GB

16

2,835.00

10,400.00

M3

4 GB

64 GB

32

3,625.00

13,300.00

M3

8 GB

64 GB

32

3,710.00

13,600.00

M3

4 GB

256 GB

32

3,680.00

13,500.00

M3

8 GB

256 GB

32

3,785.00

13,900.00

M3

8 GB

256 GB

40

4,265.00

15,650.00

i7

4 GB

64 GB

16

3,240.00

11,900.00

i7

4 GB

256 GB

16

3,350.00

12,300.00

i7

4 GB

1 TB

16

3,410.00

12,500.00

i7

16 GB

64 GB

16

3,350.00

12,300.00

i7

16 GB

256 GB

16

3,410.00

12,500.00

i7

16 GB

1 TB

16

3,485.00

12,800.00

i7

4 GB

64 GB

32

4,225.00

15,500.00

i7

4 GB

256 GB

32

4,360.00

16,000.00

i7

4 GB

1 TB

32

4,495.00

16,500.00

i7

16 GB

64 GB

32

4,360.00

16,000.00

i7

16 GB

256 GB

32

4,495.00

16,500.00

i7

16 GB

1 TB

32

4,630.00

17,000.00

i7

16 GB

1 TB

40

5,200.00

19,100.00
ا
Terms:
Prices in UAE Dirhams and USD

Prices don't include shipping costs outside UAE

Prices don't include VAT @5% for purchases inside of the UAE

Prices are subject to change without prior notice