BrailleSense Polaris MINI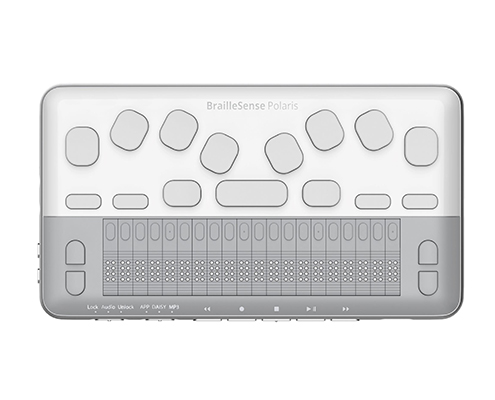 Braille Notetaker Features Standard Programs
Use our optional thesaurus and multilingual dictionaries to broaden your vocabulary or find an equivalent app in the Google Play Store. Analyze spreadsheets with our popular Excel Viewer, or read and edit spreadsheets in Google Sheets. Read or give a presentation using our PowerPoint Viewer, or create your own presentation from scratch in Slides.
- Tools for Today's Students
BrailleSense Polaris supports Google Apps, making it easy to utilize Google services like Drive, Docs, Sheets, and Slides as millions of other students do every day. But, there's more! BrailleSense Polaris provides unparalleled access to Google Classroom for blind students and teachers alike. Collaboration among students and teachers has NEVER been this easy. There's support for Nemeth
Ø The Nemeth Braille Code for Mathematics is a Braille code for encoding mathematical and scientific notation linearly using standard six-dot Braille cells for tactile reading by the visually impaired.
and UEB Math, too. BrailleSense Polaris allows for display on the built-in LCD display, tablets via Miracast, or an external monitor via the HDMI port.
- Easy Connectivity with Your Favorite Devices
Connect BrailleSense Polaris via Wi-Fi, Bluetooth 4.2, or USB 3 to your computer, iOS device, Android device, tablet, or phone. Enjoy your own MP3 while listening through the Stereo Speakers, or use headphones with the audio jack for your private listening.
It can be connected to an external LCD via Micro HDMI port for display.
· Specifications:
1. Platform:
- Operating system: Android Lollipop 5.1.1
- CPU: 8 Cores 2.1GHz
- RAM: LPDDR3 3GB
- Program Memory: Stored in Internal Storage
- Model: H520B
2. Storage:
- Internal Size: 64GB
- External Slot: Micro SD Card , Micro HDMI , USB 3.0 OTG
3. Body:
- Dimensions (W x D x H): 7.28 x 4.05 x 0.90 in
- Weight: 0.91 lb (415 g)
4. Battery:
- Removable: Replaceable and Changeable Battery Pack
- Charging: USB Type C
- Charge Time: 3.5 hours
- Running Time: 11 Hours standby , 3.5 hour charging , USB charging
5. Keyboard: 9 key Perkins-Style Braille keyboard, Control and Alt, 4 function keys, 32 cursor routing keys, 4 scroll buttons.
6. Additional buttons and switches: key lock switch, Media Mode switch, 5 media buttons.
7. Braille display: 20 refreshable Braille cells.
8. Visual display: Internal LCD, HDMI, Miracast (1920 x 1080 FHD)
9. Network: WLAN 802.11b/g/n/ac , Wifi-Direct , Bluetooth 4.2 , USB to Ethernet (optional)