Products
Products Manufactured by Nattiq
Products distributed by Nattiq
Notetakers
Notetakers
Braillino
Braillino

Wireless with BLUETOOTH® Technology
The Future in Your Hands
 
The Braillino Idea
 
Braillino is the ultimate Braille notetaker. The possibility to combine Braillino
with an off the shelf mobile phone provides access to all fancy functions like
short messaging, e-mails and so on. If you one day want to use the next generation
of mobile phones, Braillino is ready for this. Don't get ennoyed by outdated special
equipment. Braillino stays up to date. The BLUETOOTH® wireless technology allows
to connect Braillino wireless to personal organizers, mobile phones or a PC.
 
Braillino
 
Braillino is your ideal companion. It offers a 20 character Braille display with two
Triple Action keys and a very ergonomic Braille keyboard. It is so small and
compact that you can use it as a Braille notetaker anywhere you like.
 
Dreamteam
 
Use the latest in mobile communication by connecting Braillino to the newest
generation of mobile phones and organizers. The software package Talks&Braille
provides access to the complete functionality of mobile phones by adding speech
output and Braille support.
 
BLUETOOTH® Technology, the Wireless Connection
 
BLUETOOTH® wireless technology allows to use a mobile phone within a range
of 10 meters without ennoying cables. Just leave your mobile phone in your pocket
and write e-mails or text messages (SMS) wherever you want. Listen discreet to a
speech output with a headset which can also be used for making phone calls. Most
personal organizers and mobile phones offer:
·Telephone book with address filing system
·Calendar with scheduler and alarm function
·Word processing
·E-mail and text messaging (SMS)
·Voice recording and much more
 
Talks Premium 
 
Talks Premium is a very comfortable and flexible screen reading solution for the
Symbian operating system running on mobile phones. Text displayed on the mobile
phone is converted into speech and Braille. You can control your mobile phone by
using Braillino's Braille keyboard.
 
Braille Support
 
The Braille support allows Braille output as well as Braille entry on Braillino to control
 the mobile phone. This includes functions like:
·Grade two support
·Selectable Braille tables
·Cursorrouting
·Block marking functions
·Navigation functions
 
Speech Output
 
The Eloquence speech output of Talks Premium converts displayed text into natural
sounding speech. Speed, pitch and loudness can be adjusted. You can use the built-in
speaker of the mobile phone or a headset.
 
Ergonomically Optimized
 
Braillino's design resulted from extended ergonomic studies like all Handy Tech
products. The placing of the Braille keys allow a relaxed position for your hands. You
can also rest your hands on the rounded surface of the Braillino without pressing
keys by mistake.Handy Tech's ergonomically shaped, concave Braille cells allow
 a natural hand position when reading Braille.
 
Operating Braillino
 
Two Triple Action keys can each control three functions by pressing the upper,
lower or centre part of the key. These concave keys are located to the left and the
 right of the Braille reading area.In order to place the cursor in a specific location,
each of the 20 Braille elements has an integrated cursor routing key. Centred on
 the Braillino are two up and down scroll keys.
 
Braillino Notetaker
 
Braillino can be used as a Braille notetaker on its own. Braillino's 4 MB of flash
 memory can store up to 512 files. A single file can be as large as 3 MB.For
comfortable text entry, you can connect a standard computer keyboard with Braillino.
 
Comfortable Editing
 
Notes can be stored as files directly into Braillino. Up to five files can be open parallely.
You can switch between open files with Alt+Tab (Chord 568). Braillino offers the block
functions copy (Ctrl+c), cut (Ctrl+x) and paste (Ctrl+v). Additionally, Braillino offers a
 clipboard and an easy to use search and replace function.
 
Easy File Transfer
 
Braillino's HTCOM communication software allows to transfer files to and from your
PC. When transferring files to Braillino, HTCOM maximizes memory usage by
extracting only text information. You can download files directly from Windows
 explorer or Word to Braillino.
 
Future Compatible
 
With Braillino, you have taken the right decision for the future. Year after year, the
mobile electronic companions are getting smaller and more powerful. You have the
choice using the next generation of mobile phones or organizers with your Braillino
 by using the wireless BLUETOOTH® technology.
 
Technical data Braillino:
- 20 concave Braille cells
- 20 cursor routing keys
- 1 serial interface, USB Adaptor, keyboard interface 
- 2 up and down scroll keys
- 2 Triple Action keys
- 8 Braille keys
- 4 standard rechargeable batteries (AA) 
- Colour: Handy Tech blue
- Dimensions: (width x depth x height) 223 x 123 x 33 mm or 8,7 x 4,8 x 1,3 inch
- Weight: 688 g or 19,5 oz
- BLUETOOTH® wireless technology
 
 
Braillino was nominated for the final jury decision in the category
AT/Communication and Information of the Design for All and Assistive
Award 2004. DFA:AT European Awards is an Initiative of the European
Commission.
 
The BLUETOOTH® word mark and logo are owned by the Bluetooth SIG, Inc.
and any use of such marks by Handy Tech is under license. Other trademarks
and Trade names are those of their respective owners.

What is Talks and Zooms?
What is Talks and Zooms?

Nuance TALKS™ converts the display text of a cellular handset into highly intelligible speech, making the device completely accessible for blind and visually impaired people. Nuance TALKS runs on Symbian-powered mobile phones to speech-enable contact names, callerID, text messages, help files and other screen content. Zooms magnifies the cellular handset in from 1 up to


Running on Symbian™ Series 60 phones, Nuance TALKS converts the displayed text on the mobile handset into highly intelligible speech. With Nuance TALKS, blind and low-vision users can take advantage of most features, including contact directories, caller ID, text messages, help files, access to the Nokia web browser, and other screen content, available on their mobile phones. Plus, Nuance TALKS Premium Edition provides a user dictionary the ability to label icons with a corresponding text equivalent, as well as the new Object Viewer, to improve access to built-in as well as 3rd-party applications.
Nuance TALKS' eyes-free access can also deliver greater convenience and mobility to sighted cellular handset users. For example, it enables drivers to access text messages, listen to emails, manage contact information from their mobile phones and optionally automates the read-out of the caller ID and text messages-without taking their eyes off the road.
Unleash the exciting new features and the variety of form factors of these new smartphones from Nokia™!
WMA and MP3 playback, with support for Digital Rights Management
Basic GPS access
Internet telephony (voice over IP / SIP)
Triband/quadband GSM, WCDMA (UMTS), Wireless LAN connectivity
Etc.
Choose the handset with the features you prefer, and let TALKS be your key to accessibility!
Target Customers
* Blind persons and those with severe visual impairments
* Low-vision and seniors (combined with Nuance ZOOMS™)
* Users with needs for eyes-free operation of handset
New Features for Nuance TALKS Standard and Premium Edition
* Automatic caller ID announcement
o The caller ID for incoming calls can be announced after a specified number of seconds.
o If caller ID announcement is on, the caller ID can be repeated with a specified interval, until a call is taken or rejected.
* Automatic SMS read-out
o Read-out of incoming text messages can be turned on or off.
o When text message read-out is on:
+ Incoming text messages are automatically opened and read-out.
+ After the read-out, a dialogue asks whether the read-out should be repeated.
* Application-Specific Settings
o User can Define a set of options to be different for any specific application.
o Default are global settings.

Key Features
* Unprecedented Feature/Function Accessibility
o Audio feedback when writing or reading text messages, emails, and notes
o Automatic or manual Caller ID announcement
o Network, battery, and other status indicators read out
* Spelling speed setting
Allows the user to define different speech rates for normal read-out and spelling text.
* Various options for reading numbers
Numbers longer than four digits can now be read as single digits, double digits, or whole numbers.
* Echo mode
An independent setting allows the user to turn on a special key echo mode for those who like to use the T9 dictionary when entering text.
* Echo Passwords mode
Allows the user to hear the letters entered into a password field.
* TALKS Key Timeout and TALKS Mode Timeout
Allows the user to set a timeout for cases where the TALKS key is pressed accidentally, and allow to repeat a command or even execute different commands without Pressing the TALKS key again.
* Hear caller ID information
Adds speech output to the original user interface of the cell phone.
* Software only
No additional hardware is needed.
* Voice Familiarity for Increased User Comfort
Nuance TALKS leverages ETI-Eloquence TTS software— used in popular desktop screen readers—making many users feel instantly familiar with the voice they hear for speech output.
* Control over volume and speaking rate
* Supports many third-party applications
Supports IM+ (Instant Messenger) [S60], the Wayfinder GPS application [S60], and the Slovoed dictionary [S60 and S80].
Supported Languages:
Arabic, English, French, and many other supported languages.
Braille Displays
Braille Displays
Braille Wave
Braille Wave
Ultra-compact Braille Wave fits in any briefcase

Move into new ways of reading

braille with Braille Wave. Braille Wave - the Braille display that's so light and

compact that it fits in any briefcase and yet still has 40 Braille cells.
Light and Elegant
Weighing just 1000 g (35 oz.), it's the incredible light weight that makes the Braille

Wave the display for mobile usage. The elegant design combines superb functionality

and dynamic shaping - and all that with such small measurements

of 360 x 120 x 35 millimeters (14,7 x 4,7 x 1,3 inches).

The Best Ergonomics
The small, compact, curved casing makes your orientation to the Braille Wave easy. 
The Braille Wave's cells are concave and follow the shape of your fingertips ideally. The

reading keys are situated to the right and left of the Braille display itself, directly where

your fingers run off the display.  With the quiet, easily used function keys, you can also make
 your notes without an external keyboard.
Easy File Transfer
HTCom, the Handy Tech communication program makes it easy to transfer files like your own

notes from the Braille Wave to the PC. After editing a text at your PC, you can use HTCom to

transfer the file onto the Braille Wave. HTCom extracts the pure text information in order to

save memory capacity. Additionally, files can be directly transferred from the Windows explorer

or from Word.

Handy and Practical
The best position for the Braille display in relation to the keyboard is gained by placing the

Braille Wave in front of the PC-keyboard or the laptop.
Place the Braille Wave on your lap and lean back.  Read, in this relaxed state, your e-mails

or whatever else awaits you!
Easy Extensions
Now it is even possible to connect an external keyboard to the Braille Wave. You

can broaden the scope with an alphanumerical keyboard, so you can make notes in the most

comfortable way for you.
Flexible Access To Computers
Braille Wave gives you access to various computer systems, for example DOS, Linux,

Windows 95/98/ME/XP/NT/2000/XP.
The integrated cursor routing keys make all of the tools available to you so you can

always find the quickest way.  For example when proof-reading a text, you can move

the cursor or mouse pointer at lightning speed to the appropriate position in the document. 
Integrated Note Taking Facility
You can use the Braille Wave as a note taker, without a PC and absolutely anywhere you want,

for 20 hours, without it being plugged in. At the computer you can swap the Braille Wave in

to note taker mode at any time.  This gives you the chance of quickly jotting down a telephone
 number without having to start a different PC program.

Optionally Wireless
With the optional Bluetooth® connection, Braille Wave can be used wireless as a Braille display
 at your PC. With a range of about 10 meters, you are free to control your PC anywhere in the room,
 for example when relaxing in your armchair. Bluetooth® technology is world standard for wireless

communication. It allows you to use the Braille Wave with a personal organizer or mobile

phone. The mobile phone still in your pocket, you can write with your Braille Wave wireless e-mails and text messages.
Technical Details
· 40 concave Braille cells
· Status cells can be switched on according to requirements
· External keyboard can be connected
· 4 MB text memory
· 40 cursor routing keys
· 11 quiet function keys with some resistance
· 20 hours of "battery life" in accumulative usage
· Quick charging time (3 hours)
· Serial port
· Measurements: 360 x 120 x 35 millimeters (14,1 x 4,7 x 1,3 inches)
· Weight: 1000 g (35 oz)
Optional:
Wireless Bluetooth® technology
CCTVs and Magnifiers
Nattiq offers Optelec's CCTVs and magnifiers to its clients.
Traveler
Powerfull magnification at work, at school and on the moveThe Traveller+ is a full colour, all-in-one portable video magnifier with a 16 cm (6,4") screen. It is designed for use at work, in school at home, or on the move. The unique features of the Traveller+, like an integrated writing facility, a tilting screen and built-in batteries, provide those with low vision the possibility to see things more clearly, even if an external power source is not available. Simply position the Traveller+ over reading material (see adjacent picture), put the screen in your most convenient position and text and images will be displayed at a more comfortable size with a choice of different viewing modes. Linear stepless magnification for effortless readingThe stepless, linear zoom facility allows you to view images between 4 and 16 times magnification. The large 'plus' and 'minus' buttons of the Traveller+ allow you to take control and adjust the level of magnification that suits you, and you are not restricted to any preset zoom levels. NEW enhanced feature!Faster zooming facility means that the Traveller+ can be adjusted more quickly, making it possible to read more quickly and effortlessly. Three flexible viewing modes Viewing text and images is easy using the full colour mode. Also included are two high contrast text modes displaying either 'black text on a white background' or 'white text on a black background'. See more clearly whilst you are writing The powerful magnification of the Traveller+ can be used for writing as well as reading. By placing the Traveller+ in the writing or stand-up position (see adjacent picture), there is enough space underneath the camera for it to focus whilst you are writing. NEW feature!External lights provide a valuable source of light in dimly-lit working conditions. Use anytime, anywhere The Traveller+ has on-board batteries, with a life of 2.5 hours continuous use - this means it can be used free from mains power, and there is no need for an external battery pack. Traveller+ can be connected easily to a TV screen by means of the NTSC-cinch output connector. Also the Traveller+ can be connected to a laptop or computer screen by plugging in a cinche-vga converter.  Key benefits and specifications 
Powerful, stepless and continuous motorised zoom, from 4 to 16 times magnification
Continuous auto-focus allows you to read quickly
Built-in rollers slide the Traveller+ smoothly across your reading material
Integrated writing position facility - no need for a separate writing stand. Simply place the Traveller in the stand-up position.
Lightweight design including integrated batteries
Convenient carrycase provided
Option to connect to a domestic television set and benefit from a larger screen
SpecificationsMagnification 4 - 16 times. Smooth motorized linear magnification without steppingViewing modes  
Full colour 
high contrast positive
high contrast negative
Writing modeIntegral writing facility. No external frame requiredDimensions18 x 16 x 9.5 cm Weight850 grams including internal battery and writing facilityScreen6.4 inches (16,3 cm) Flicker-free TFTBattery life2.5 hrs Battery charge time3.5 hrs OtherCustom made carry bagOptionalThe Accessory Pack includes a TV-Video cable and an In-Car Charger
Nattiq to Add Additional Arabic TTSes to Talks
Nattiq is expected to add two additional engines to Talks, mobile screen reader, represented in Nawfal and Adam in addition to the existing Saieda.
Many users requested a TTS with a males's voice especially those who reside in Saudi Arabia. The addition of the two new engines along with Saida's femal voice will provide users with the different voice options they expect.
Talks continue to be the Number One mobile phone screen reader in the Arab states.
Pocket Hal
Pocket Hal - Screen reader for Pocket PCs (PDAs). What is Pocket Hal?If you're regularly on the move and need to stay connected, the technology is already here in a portable format (a PDA) and Dolphin Pocket Hal can make it accessible.What is a Personal Digital Assistant (PDA)?A PDA is a small hand held computer that runs a Windows Mobile Operating System. PDAs provide many of the capabilities of a standard desktop PC but in a portable and lightweight package.What does a PDA do?Like a PC a PDA allows you to use a wide range of applications. Windows mobile includes Internet Explorer, Outlook, messenger, Media Player, Word and Excel allowing to take notes, create documents and stay connected.How is a PDA made accessible?Like a PC the standard software resides in the PDA, but to access it you will need to add some accessories, such as a wireless keyboard and ear phones, possibly a portable Braille device and of course Dolphin Pocket Hal to make it talk. Pocket Hal supports input and output via a range of compatible Braille display devices.Why would you choose a PDA over a desk top or mobile phone?Mobility, a PDA will allow you to work on the move. PDAs also offer internet to go. Although mobile phones offer this, the reality is with a PDA that is Wi-Fi enabled you can surf at speeds that are 20 times faster than a normal GSM phone. These days you don't have to travel too far to find a Wi-Fi.Why would you choose an accessible PDA ahead of a proprietary Braille note taker?An accessible PDA is the future and it's future proof. Microsoft have a major stake in this market and all the big electronic hardware companies such as Hewlett Packard, Dell and Samsung are heavily invested; it is the next generation and it's here.Who uses Pocket Hal?Anyone who wants to work on the move and stay connected cheaply. People at work or college; people who travel regularly will all benefit from the latest PDA technology.Key Benefits:
Full screen reading tools for a PDA device, enabling you to work on the move.
Supports input and output via a range of compatible Braille display devices.
A single license covers you the user, and not just one PDA, so you don't have to buy a new license of Pocket Hal, just because you've bought a new Pocket PC.
Based on the successful Hal screen reader so you can rely on proven technology from the experts.
Use the PDA buttons to quickly review your emails, calendar, contacts and other applications.
Braille Displays
Nattiq offers a range of Braille Embossers to accomodate personal use for individuals as well as institutional use.
Digital Talking Book
Nattiq offers a software and Hardware solutions to create and play Digital Talking Books. Supported formats include DAISY and MP3 formats.
Easy Reader
Easy Reader: Accessible eBook reader


EasyReader is an accessible software ebook reader, allowing users to read and listen to content through a combination of text, speech and images.
EasyReader can be used by absolutely anyone who enjoys reading books with highlighted text and speech. EasyReader is ideal for readers with blindness, low vision, dyslexia and other specific learning disabilities. EasyReader is also ideal for use in schools and libraries to empower readers to access a wider reading world.
Key Features
1. Opening a book
Bookshelf (easy to open books)
File Open
Open from clipboard
List of compatible Talking Books
2. Playback Features
Easy to use playback hotkeys
Easy to use toolbar playback buttons
Book Voice options
Highlighting options
Text and background style options
Volume control
Voice speed control
Pause / Autostop
3. Reading Features
Bookmarks
Search
Find
Select and copy
4. Navigation
Heading navigation
Advanced Heading Level Navigation Hotkeys
Navigation Points navigation
Bookmark navigation
Search points navigation
Page number navigation
5. Accessibility
Zoom in & Zoom out
Horizontal scrolling
Menubar structure
Speak to me
Screen Reader compatible
Key Describer Mode
6. Additional Support
Setup Wizard
MathML support
SVG image support
Hyperlink support
Skippable content support
Windows colour settings support
EasyReader Help
Website: www.YourDolphin.com/EasyReader
Digital Talking Library
Nattiq offers state-of-the-arts Digital Talking Book Library based on the DAISY technology.
Ease Publisher
Dolphin Publisher: Create human narrated DAISY talking books

Dolphin Publisher is the premier tool for creating professional DAISY digital talking books with human narrated or synthetic voices.
Dolphin Publisher is designed for altFormat and DAISY specialists looking to create professional DAISY talking books. Dolphin Publisher is the ideal solution for publishers of DAISY talking books, professional transcription services, DAISY talking book librairies and specialist DAISY talking book producers in education.
Key Features
1. Document Inputs
Import MS Word (.doc and .docx) and TXT documents
Import HTML and XHTML files
Import NIMAS, unprotected EPUB and DTBook XML
Drag and Drop text from any other application including Web pages
Import images and graphics
Import existing DAISY books for editing
Automatic mark up of words, sentences or paragraphs for navigation.
Automatic mark up of all document headings from HTML tags
2. Audio Importing and Recording
Import mp3 or .wav (pcm) files into Dolphin Publisher
Record audio directly into Dolphin Publisher using a microphone and a line-in to the PC sound card
Apply automatic phrase detection to create navigable "audio events"
Convert MP3 files into .wav during the import process to allow full editing
Record audio from 8000Hz mono to 48000Hz stereo formats
Resample audio during the import process
Audio processing functions allow audio to be altered if needed (Resample, fade in, fade out, normalise, amplify, filter and insert silence)
3. Text To Speech features
Automatically generate synthetic audio from any compatible SAPI 4 or SAPI 5 synthetic voices from the on-screen text
Audio is automatically synchronised with the on-screen text
Generate audio for entire productions or just individual sections
Fill in the gaps where no pre-recorded audio is available using a synthetic voice
Adjust speed and volume of the generated synthetic speech
4. Editing Facilities
Use Dolphin Publisher's built in or your preferred HTML editor
Alter font styles and sizes
Apply style sheet to final production
Mark body text as skippable elements (Page numbers, footnotes, producer notes and side bars) that can be played or ignored by supporting playback devices.
Add "pop-up" images that are displayed in synchronisation with the corresponding audio.
5. DAISY Book Production Facilities
Produce DAISY 2.02 or DAISY 3
Produce all 6 types of DAISY digital talking book; including text only, audio only, or full text and audio
Intellectual Property Protection (IPP) function allows protection from unauthorised copying, viewing or editing of the text and images in your production
Validation function checks for possible errors prior to outputting
Cleanup function removes redundant audio files and merges remaining files into logical segments
Logically rename audio files to allow playback in standard MP3 players by adding ID3 tags to MP3 files used in your DAISY books.
Convert full text and audio DAISY books into NCC/TOC only DAISY books
Add EasyReader Express to your DAISY talking books.
6. Support
Free lifetime technical support
Full online help facility
Full online user guide
Full training programme available
Website: www.YourDolphin.com/Publisher
Duxburry DBT (Arabic Version) Arabic Braille Tables Software
Duxbury Braille Tables (Arabic Version): Braille Translation software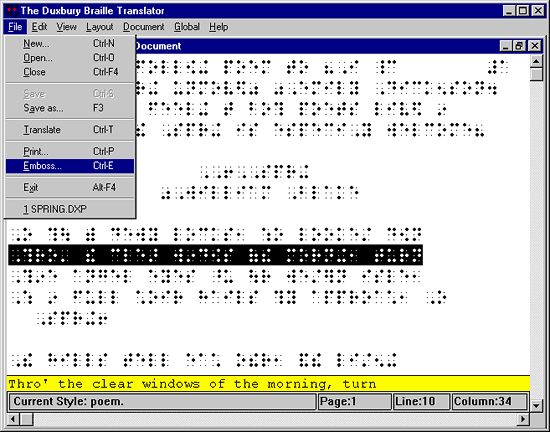 DBT provides translation and formatting facilities to automate the process of conversion from regular print to braille (and vice versa), and also provides word-processing facilities for working directly in the braille as well as the print. "Fonts" are used for displaying the Braille.Suitable for translation irrespective of users' knowledge of Braille.
Key Features:
1. Built-in interline printing to have ink-Braille and print together. This makes an easy proofing and teaching tool. Great for the Braille-impaired too!
2. Math/Science Code and Computer Braille translation for American, British, and French Braille.
3. Intermediate levels (between grade 1 and 2) for American and British Braille
4. The ability to include tactile graphics files for mixed text-and-graphic documents
5. Imports from popular word processors including Microsoft Word and WordPerfect, HTML, ICADD, DAISY/NISO/NIMAS, formatted and plain ASCII, earlier Braille editors such as EDGAR and Polkadot, Duxbury's own historical file formats, and more.
6. The current translation table menu includes dozens of major languages plus variations, including grade 2 support for most jurisdictions where grade 2 is customarily used. Moreover, DBT allows languages other than the principal language to be embedded in the same file and treated as appropriate for the context. (Contact us if you have questions about a specific language.) Now Braille for foreign-language texts and language teaching texts is a snap.
7. Bidirectional (print-to-Braille and Braille-to-print) translation
8. American textbook layout according to Braille Authority of North America (BANA) standards, and likewise the Braille Authority of the United Kingdom (BAUK) customs for the same purpose
9. Accurate presentation of both print or Braille in either WYSIWYG (what-you-see-is-what-you-get) or coded (how-you-get-what-you-want) views in the word-processing screen, with easy switching between views
10. A "translated line" showing the "other" form in either print or Braille files
11. Six-key chording for Braille and print entry, not timing-based, compatible with most keyboards
12. Help screens throughout the program
13. Over 100 formatting & translation codes for a high level of flexibility
14. A library of user-configurable styles
15. A user-extendable template library for even more flexibility
16. A spell-checker with 300,000-word dictionary
17. A "Quick Find Misspelling" feature for increased speed and ease of use
18. Embossing to all major Braille printers; the first page may be a "banner" for job identification by personnel who don't read Braille
19. The Duxbury Braille Font for viewing Braille dots within other programs
20. Choice of single-user, site & other licenses
21. Unlimited technical support by telephone, email, fax, etc.
22. An Internet user forum to communicate with other Duxbury users
Specifications:
1. Requires 50 megabytes of hard drive space after installation is complete
2. Requires Microsoft Windows version 2000, XP, Vista, or Windows 7
Hal Pen
Dolphin Pen - Dolphin Access software on a USB drive
What is Dolphin Pen?
The first Pen in the World that offers true freedom and independence. Take your favourite Dolphin Access software with you from PC to PC without having to install (available for Lunar, LunarPlus, Hal or Supernova).
Who uses Dolphin Pen?
The Dolphin Pen will benefit any visually impaired computer user that desires the flexibility to work on any standard PC. Useful for students and employees who use different desks.
Key Benefits:
Take magnification, speech and Braille with to any PC* you use without having to install software or carry CDs.
Easy to use and quick to setup, simply plug-in and go*.
Ultimate portability for users. The pen is a tiny, lightweight yet robust device that can fit in your pocket.
Allows access to any compatible computer. Users are no longer tied to dedicated computers (perfect for schools, libraries and universities).
Offers the same flexibility and independence available to other computer
Zooms - Mobile Phone Screen Magnifier
Zooms